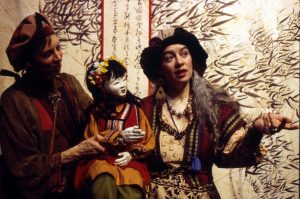 NIGHTINGALE
Wednesday, July 26 at 7:00pm
Stonington, Maine
We're thrilled to bring our performance of Nightingale to Stonington as part of Opera House Arts' annual Live! for $5 series. Live for $5 consists of 6 hour-long, live performances held on Wednesdays throughout the summer designed so everyone, regardless of age, can enjoy live theatre.
Nightingale is an exotic, musical adaptation of the Hans Christian Andersen story of the Emperor who is moved by the song of a plain gray bird, until he receives the gift of a jeweled mechanical bird with which he becomes obsessed. The production gently stresses the importance of connection with Nature, and with the true essences of life.
The Stonington Opera House
1 Opera House Lane
Stonington ME 04681
$5 – Box Office opens at 6:30pm